2019: An Exceptional Year for The El.En. Group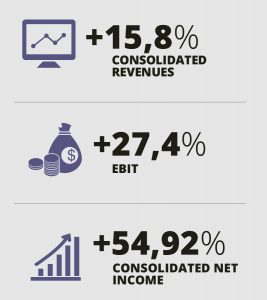 2019 has been a fantastic year for El.En.
Yearly results report a growth of roughly 16% in sales, surpass­ing 400 millions Euro, and an EBIT around 38,2 millions Euro (+ 27,4% growth vs 2018).
The Group is healthy, mainly be­cause of its medical business, which counts for almost 240 mil­lions Euro (roughly 264 millions USD).
Nowadays the El.En. Group is the second one in the world, as it re­gards medical laser applications, and the seventh as it regards laser business in general. All its companies have grown much during the year.
DEKA's growth has been 10% in sales, vs 2018, and, considering the entire DEKA Group (which also includes the French and Japanese markets), the growth of sales has touched 26,8% vs 2018.
Onda has been the main driver, on behalf of DEKA. But, with the ex­ception of the USA, the MLT busi­ness has not shown any flexion.
During 2019 the company has prepared many new products, for their launch during 2020. De­spite all the obstacles of several health institutions and notified bodies, worldwide, and of the new notorious European MDR, DEKA, and her sister companies of the Group, have not lost faith. They have achieved incredible registrations and clearances all over the world, and other strate­gic activities are planned for the current year.
A Capex investment (new build­ings and infrastructures) of sev­eral tens of millions of Euro has characterized the activity of the whole El.En. Group, in 2018 and 2019. Nowadays all the El.En. group facilities have strength­ened their operations, enlarging each single company production capacity.