SmartXide Punto – Experience and Innovation: A Winning Mix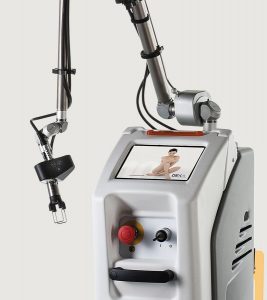 DEKA was a pioneer in skin photorejuvenation thanks to its fractional CO₂ lasers. SmartXide DOT, with DOT Therapy, has paved the way for a new generation of CO₂ lasers since 2004.
Today, DEKA introduces the latest evolution of that original device, combining its consolidated high degree technical features with the most evolved RF-CO₂ laser source technology.
The new born is the SmartXide Punto system: the new entry level CO₂ laser configuration designed for aesthetic medicine
and dermatological surgery!
DEKA, world leader in advanced medical laser systems, has developed a RF CO₂ laser source with the exclusive PSD® (Pulse Shape Design) technology, achieving performance levels never attained before in dermatological applications. Complete control
of duration, energy, and shape of each pulse makes the choice of SmartPulse (SP), DEKAPulse (DP) and HighPulse (HP) the best solution for all the needs in Skin Resurfacing and Surgical treatments. PSD® can modulate ablation and coagulation (thermal effect) freehand and fractional scanning modes.
The therapeutic action reaches surface tissues and deeper areas selectively, ensuring maximum reliability in controlling the application, with minimum thermal damage and extremely rapid recovery time for patients.
The SmartXide Punto laser system enables accurate selection of all the operating parameters, thus making it possible to perform a wide range of aesthetic and dermatological treatments in the most efficient way, facilitating the patient's post-op recovery.
Ideal for treating delicate areas such as the neck and décolleté, SmartXide Punto is also especially well-suited for minimally invasive periocular lifting.
Excellent results are guaranteed by DEKA's lengthy experience dating back to the emergence of CO₂ lasers.